Solution1
Solution2
Solution3
Netsys Long Reach solution consists of NV-202 which allows your IP network infrastructure to be deployed flexibly anywhere at long range. It is designed to extend Ethernet transmission over any existing twisted-pair cable or telephone wires for distances up to 3,000m (9,843ft) into any point to point applications.
What Is Long Reach LAN Extenders?
When building an IP network infrastructure, the distance problem, power supply, cable deployment network coverage is a major issue of concern managers.
To solve the above issues, Netsys launched a long-distance power supply solutions to meet today's needs that require long-distance transmission of data and power, making it a perfect and fast solution, making remote networking lower the total cost of implementation.
The use of long-distance Ethernet VDSL2 technology and with PoE technology enables IP network deployment limit over 100 meters (328 feet), which means that any IP infrastructure can be built in remote areas without having to worry about from the power supply and rewiring.
Realizing The Long Reach Networking
Netsys POE solution is suitable for IP surveillance applications, to achieve a long-distance and high bandwidth, by using combination of NV-202 & NV-202P, customers can always switch characteristics to CO or CPE side, making IP surveillance applications requires high bandwidth easier. The maximum connecting distance can up to 3,000m (9,843ft) and you can build network at location in which power source is hard to reach, such as ceiling or hallway.
Netsys Last Mile Transmission Solution include VDSL2 applications. Netsys provides not only CO (Central Office) side of equipment for ISP but also CPE (Customer Premises Equipment) side of device for end users. Netsys Last Mile CO equipments and CPE devices enable long distance IP Surveillance deployment and many Multi-Media services to realize on local high speed Internet, such as:
Triple-play (Voice, Data, Video)
Telemedicine, remote lecturing
Videoconferencing, Video on demand
Network access for buildings, hotels, campus
IP surveillance
IPTV/HDTV/4K TV and high-speed internet access
On-line Game
Netsys VDSL2 Solution contains multiple or single ports CO VDSL2 device, single G.fast CO device and various VDSL2/G.fast CPE models for Telecom, ISP, SI and etc. The total VDSL2/G.fast solution offers fast and stable data transmission over existing copper telephone lines without the need of rewiring.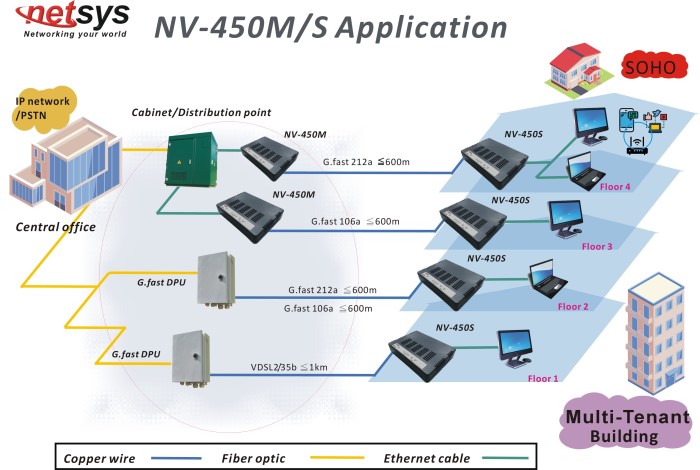 Netsys Industrial LAN Extenders Solution offers high reliability and security to ensure continuous industrial operation in harsh environments such as outdoors, factory floors, railway and at extreme temperatures. The Industrial Ethernet Extenders upgrade traditional, proprietary factory-floor networks to a low-cost, high-performance, and scalable architecture. Netsys Industrial Ethernet Extenders offer long distance and high bandwidth with high-reliable data transmission.
Reliable Robust Design Protection
Industrial Ethernet products are designed with rugged high-strength case and is compliant with the design of IP-30. The product is specifically designed wide range operating temperature (for example: -20~70°C), to provide a stable performance in harsh environments.
Reliable Protection Settings & Install Quickly.
All Netsys Industrial LAN Extenders support reliable redundant power supply and various protection settings such as Overload Current Protection, surge protection, Reverse Polarity Protection. All Netsys Industrial Ethernet Extenders offer DIN-Rail mounting plate, administrator can easily install it to the DIN-Rail.