NV-700I
Managed Industrial VDSL2 CO Modem
Ordering Information
NV-700I
Managed Industrial VDSL2 CO Modem
OVERVIEW
FEATURES
SPECIFICATIONS
APPLICATIONS
DOWNLOAD
NV-700I is a Managed Single Master LAN Extender that leverages the extraordinary bandwidth promise of VDSL2 technology (max. 100Mbps symmetric), the next step in the delivery of new high-speed Internet applications in Industrial-grade environments. Quick, easy, economical to install and maintain, the NV-700I works over existing copper wire infrastructure. NV-700I is a Master(CO side) , which it's designed to interconnect with NV-600AI (CPE) for point to point application.
NV-700I will allow operators worldwide to compete with cable andsatellite operators by offering services such as HDTV, VOD, videoconferencing, high speed Internet access and advanced voice services including VoIP, over a standard coppertelephone cable. NV-700I is seen by many operators as an ideal accompaniment to a FTTP rollout, where for instance fiber optic is supplied direct to an apartment block and from there copper cable is used to supply residents with high-speed VDSL2.
FEATURES
Supports wide range 12~48vdc dual power input for power redundant
Supports wide operating temperature -20 ~70 ℃
Adopts ARM Cortex A9 dual-core processor
Supports IP30 level metal housing and DIN rail
Supports RJ11 & Terminal Block combo port
Supports backup / restore for config setting
Supports dual firmware for saving firmware upgrading failure
Supports http/https server for remoting web management
Supports SNMP VI/V2
Supports Jumbo frame up to 2k(MTU)
Supports 17a/30a profile config
Supports G.998.4 G.INP
Supports IPV4/ IPV6 address
Supports Dual Firmware Image Backup
On board surge protector for ethernet and line port
Supports IGMP snooping V2/ V3
Supports SSL/ SSH/ TR-069 security
Supports SPDT relay for connecting alert device
* Specifications are subject to change without prior notice.
Specifications
Standard Conformance
Standard:
IEEE802.3 10Base-T
IEEE 802.3u 100Base-TX
Complies with ITU-T G993.2
Regulatory Compliance:
FCC
CE
RoHS compliance
Hardware Specifications
Physical Interface:
4x RJ-45 10/100Mbps
1x RJ-11 Line port
1x Terminal Block
LED indication:
1 x Power LED
4 x Link/Active Status for Ethernet port
1 x Link LED for VDSL2 port
1 x CO Mode indicator LED

Typical Power Consumption:
6.24W (Full load, without port)
Switch method:
Store and forward
Flow control:
Full duplex: IEEE 802.3x
Half duplex: Back pressure
Power Supply:
Dual DC input power Redundant 18~48V (Removable Terminal Block)
Operating Temperature:
-20°C ~ 70°C (-4°F ~ 158°F) Fanless, free air cooling
Storage Temperature:
-40°C ~ 70°C (-40°F ~ 158°F)
Humidity:
5 to 95% (non-condensing)
Net Weight:
0.8 kg
Dimensions:
182mm x 142mm x 35.5mm (7.16" x 5.59 " x 1.39 ")
* Specifications are subject to change without prior notice.
* Please equip the anti-static devices during INSTALLATION.
APPLICATIONS
LAN Distance Extension
First a quick overview on a complete setup of interconnection of NV-700I and NV-600AI. NV-700I is a LAN extender leverages the extraordinary bandwidth promise of VDSL2 technology (max. 100Mbps Symmetric)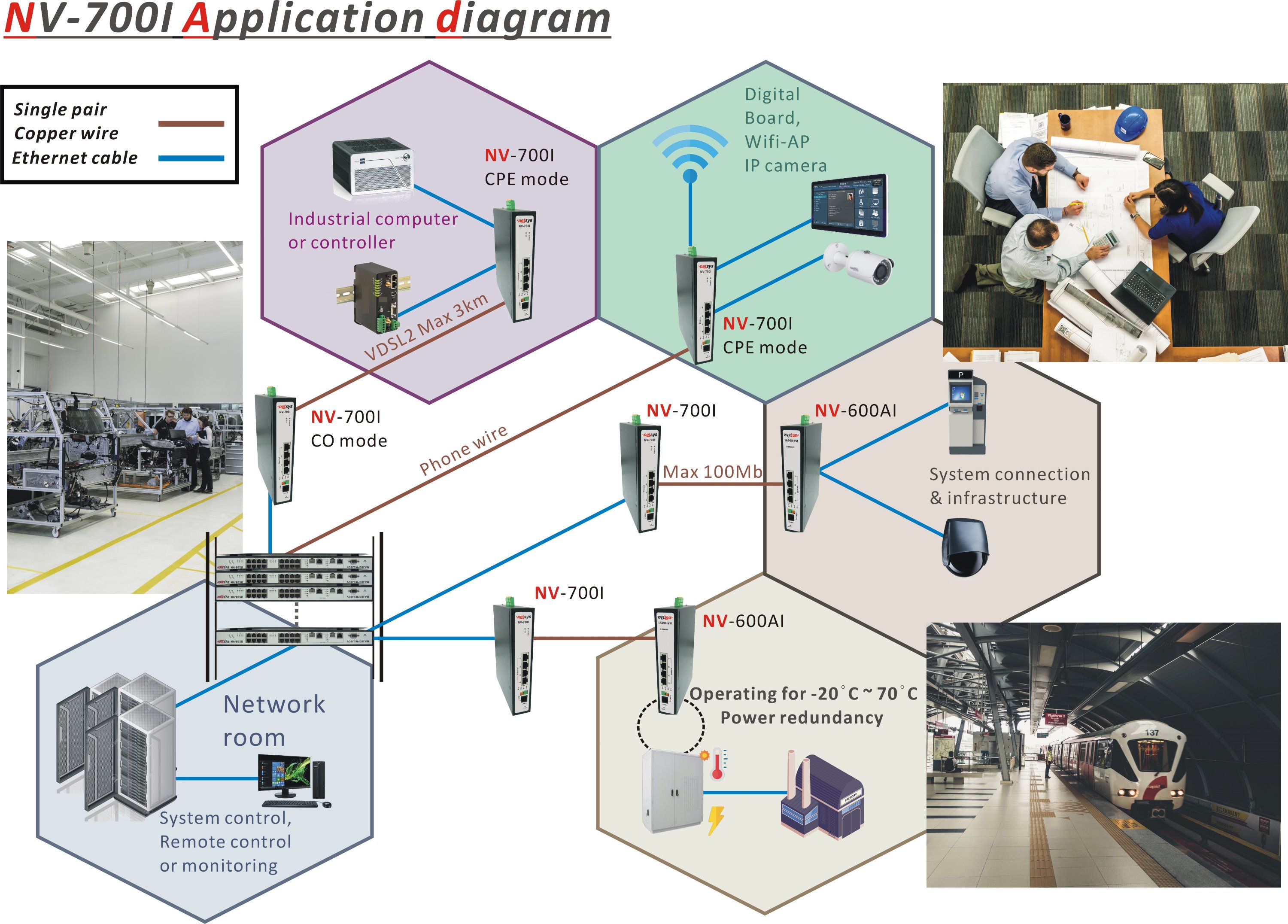 Proper Installation: Train & Metro Stations、Boat and Submarine、Military use、Military Training System、Parking system、Weather station、Amusement park、Farm、Jail & Oil Refinery、Telecom.